Posts Tagged: wildfire
The Ventura County Cattlemen's Association publicly thanked UC Cooperative Extension and other organizations for their support during the devastating wildfires of late 2017.
In the space of 12 hours, the Thomas Fire ripped through vital grazing land that cattle rely on for their daily feed. Some animals were also killed in the fire. In a letter to the Ventura County Star, Beverly Bigger, president of the Ventura County Cattlemen's Association, said UCCE livestock and range advisor Matthew Shapero, the Ventura County agricultural commissioner and representatives of Ventura County animal services established an emergency program to supply five days of hay until ranchers could get on their feet.
UC Cooperative Extension also served as a one-stop location where ranchers could meet with representatives from multiple agencies to apply for assistance programs.
"We want to thank and recognize them for helping us in our time of need. We look forward to returning to our passion: managing and improving the land and continuing Ventura County's ranching heritage," Bigger wrote.
Fire scientist Kate Wilkin was on the job just a few weeks when ferocious winds whipped up the Northern California firestorm of 2017. The national media focused on Napa and Sonoma counties, where the deadly Tubbs fire became the most destructive wildfire in California history, while devastating fires also broke out in Butte, Nevada, Yuba and other counties.
It was crunch time for Wilkin, who stepped in as the new forestry, fire science and natural resources advisor for UC Cooperative Extension in Sutter, Yuba, Nevada and Butte counties that fall. Four lives and 200 homes were lost in her new work community. Wilkin will now host workshops to help families and businesses recover from the firestorm and rebuild in a way that is more resilient to fire. Fire resiliency will start at her own home.
From the Bay Area to the small town of Grass Valley
Wilkin and her husband Josiah Johnston moved into their first home, a ranch-style rambler atop a hill in Grass Valley, on Sept. 15, three days before Wilkin reported to work in the Sutter-Yuba County UC Cooperative Extension office in Yuba City.
The couple moved from a small apartment in Berkeley, where Wilkin was conducting research as a post-doc in the lab of UC Agriculture and Natural Resources researcher and UC Berkeley fire science professor Scott Stephens. The move from a hyper-urban Bay Area city to a small hamlet in the hills wasn't too much of shock to their systems. Johnston was raised on a farm with chickens and goats. Wilkin grew up in the rural Appalachia community of Abingdon, Va. After completing her bachelor's degree at the College of William and Mary, an internship with the Nature Conservancy in Kissimmee, Fla., introduced Wilkin to fire science.
"In the Disney Wilderness Preserve, the landscape would burn then flood every year," Wilkin said. "I became fascinated with how these disturbances catalyzed diversity."
What better place to continue a fire education than California?
Wilkin enrolled at CalPoly, San Luis Obispo, earning a master's degree in biology. She spent the next three years in Yosemite National Park, working with a team of scientists to understand the impacts of packhorse grazing in mountain meadows.
"We found that the current policies led to meadow degradation," Wilkin said. Yosemite then changed its policy to reduce the amount of horse grazing on these tender, sensitive mountain resources.
In 2011, Wilkin started work on her doctorate at UC Berkeley, where she studied the relationship between fire, forest diversity and water. Wilkin signed up for the pilot Graduate Students in Extension program at Berkeley, launched in 2014 to train and recruit graduate students for careers in research and outreach.
"The … internship gave me an amazing set of professional skills that I could practice, including media relations, public speaking to different audiences, and conference organizing and facilitating," Wilkin told Science Magazine for an article about the innovative program. "Many of my colleagues and I see environmental problems and want to do applied research because we want to help find solutions."
Beginning at home
With full knowledge of the dangers of living in fire-prone areas, Wilkin and Johnston purchased a home close to the outdoor amenities they adore – hiking, backpacking and skiing.
"Tahoe is just an hour away," Wilkin said. "I love the view from the house and the wooded setting. But we live in an area CalFire has designated as very high fire danger."
As a fire scientist, Wilkin was well equipped to make changes to the home and landscape to minimize the risk.
"We moved in during peak fire season," Wilkin said. "We didn't hang artwork. My priority was to make the home and deck more fire resistant. We put in one-eighth-inch mesh over the vents, caulked around doors and windows, blew leaves off the roof and deck, removed lattice wrapping the deck and cleaned the gutters. Then we created defensible space starting close to the house and working our way outward."
The couple labored about 200 hours and spent about $800 in the first six weeks buying and renting tools, including a chipper, saw and a truck to haul away tinder-dry lattice, foliage and pine needles. With the most critical fireproofing completed, the couple is now tallying the work that should be done to further enhance the fire safety of their home.
"We probably need another $6,000 to $7,000 of work," Wilkin said.
When the North Winds blow
Wilkin recalled the terrifying time about a month after moving into their new home when howling winds whipped around the house and fires were breaking out across Northern California.
"The North Winds are haunting," she said. "I hadn't felt wind like that since I lived in Florida and experienced hurricanes."
Wilkin and Johnston were fortunate. The closest fire to their home was the McCourtney Fire, which burned 76 acres in Grass Valley. The wildfire stayed two miles away.
Looking back at 2017, the devastating wildfires of California seem to have made an impression on the news of the nation. A recent article in the Washington Post offers some stark facts and figures about just how bad our 2017 wildfire season was in terms of lost lives, families left without homes,...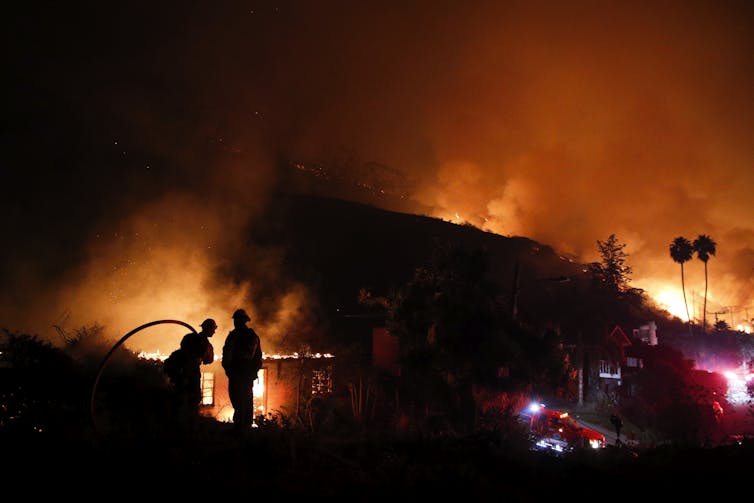 Faith Kearns, University of California, Division of Agriculture and Natural Resources
In the midst of the many wildfire emergencies that have faced California this year, it can often seem that the way houses burn, or don't, is random.
The thing is, though, it's not. Firefighters and researchers alike have a pretty solid understanding of why some houses are more vulnerable to wildfire than others. The real challenge ultimately lies in whether those with the power to act on that knowledge will do so.
Available science
It is commonly thought that it takes direct flame to spread a fire, but this isn't always the case. Small embers are instead often the culprits that begin house fires during wildfires. These small bits of burning debris can be lofted long distances by the wind. They can then end up igniting landscaping materials like combustible mulch, or enter homes through vulnerable spots – gutters teeming with debris, unscreened attic vents, open or broken windows, old roofs with missing shingles. Once there, the embers smolder and can ultimately catch a house on fire.
In California, iconic winds work to create ideal ember-driven ignition conditions. The Santa Ana winds in Southern California – known as the Diablo winds in northern part of the state – have generally followed fairly predictable seasonal and spatial patterns. "Red flag" fire warnings are often issued on dry days when the winds will be particularly fierce.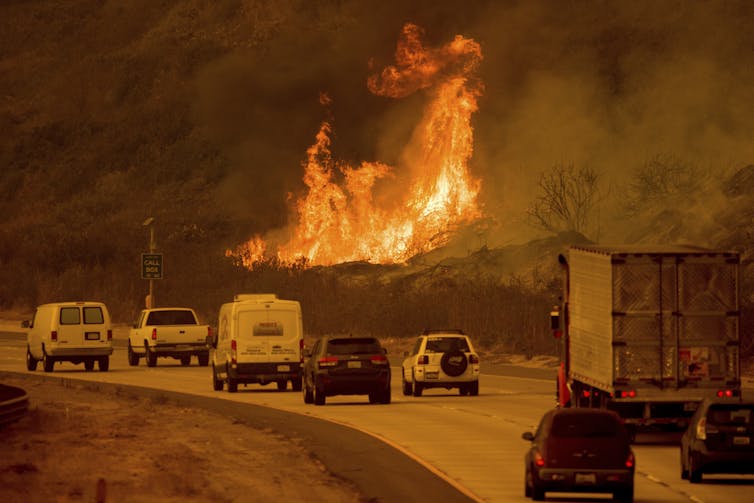 While humans can't really control as much as we'd like to believe when it comes to disasters, we do have the ability to control where and how we build. For decades, most wildfire education and enforcement campaigns have focused on creating so-called defensible space where landscaping vegetation is carefully selected and located on the property, as well as routinely maintained.
This is not enough, however. Officials in California – as in other fire-prone states – need to help homeowners, local governments and builders to understand there are also specific, science-based steps that can be taken to make structures themselves less vulnerable to fire.
Researchers recommend what is known as a "coupled approach" to home and building survival. This means the development and maintenance of an effective defensible space, as well as the careful selection of construction materials and correct installation to ensure that, for example, there are not gaps in siding or roofing that would allow embers to penetrate.
Decision-makers also need to be willing to take on the most taboo topic of them all: recognizing that there are places houses simply shouldn't be built, or rebuilt, at all.
(Not) too urban to burn
Earlier this year, California had the first strong winter rains after many years of drought. Now, after a typically dry summer, the state is experiencing a dry start to the rainy season, particularly in the south. At the same time, people have continued to build into places known to burn regularly. The result of this confluence of events has been fires deeply affecting many thousands of people up and down the state.
California residents are largely aware that not all fire is bad, and that many of our ecosystems thrive on regular fire. It's not something that we should, or ever could, hope to fully contain. Our only chance is learning, really and truly and finally learning, to live with it.
In that vein, the state must look long and hard at some of the steps that have been the hardest to take – not building in places that are particularly fire-prone and matching building codes with a modern understanding of wildfire risk – if there is to be any hope of alleviating the human suffering these fires cause.
We are being invited to free ourselves from the notion that wildfire destruction is random and unpredictable, and that therefore there is nothing to be done about it. As the fire season in California gets longer, the winds worsen and wildfires move into areas once deemed too urbanized to burn, maybe the knowledge about what makes houses burn can finally be put to good use.
Faith Kearns, Academic Coordinator, California Institute for Water Resources, University of California, Division of Agriculture and Natural Resources
This article was originally published on The Conversation. Read the original article.

/h2>/h2>/span>/span>
One focus of UC Agriculture and Natural Resources (UC ANR) is forestry, and a host of its researchers study the impacts of fire and fire suppression in California wildlands. This expertise is valued by the public and the news media in times when wildfires strike.
The 2017 fire season has been the most severe on record, due to a combustible combination of drought, rains, and especially, wind. "What really makes big years in terms of acres burned is essentially how many really windy days we have," UCCE forestry specialist Bill Stewart told KPCC. Last year's wet winter, which led to increased vegetation, and this year's record-breaking heat waves aren't as indicative of fire danger as Santa Ana winds, known in Northern California as Diablo winds, Stewart said. "It's always dry. There's always fuel," he said.
UC Cooperative Extension specialist Max Moritz said the state needs to incorporate wind corridors into its fire hazard severity zone maps, according to an article on ScienceMag.org. Stricter building codes apply in places designated as high-risk.
UC ANR scientists also generate local fire recovery and mitigation resources for the public in wildfire-prone counties.
Links to all the sites have been aggregated on a UC ANR story map - https://arcg.is/0SWyW8. This story map may be freely shared on websites and social media. (Find the share URL and the embed code by clicking the share icon on the upper right hand corner of the story map.)
Local UC Cooperative Extension fire resources websites listed on the story map are:
Northern California
UCCE Central Sierra fire resources
UCCE Mendocino County fire resources
UCCE Sonoma County fire resources
UCCE Sutter-Yuba counties fire resources
Central California
UCCE Mariposa County fire resources
UCCE San Luis Obispo County fire resources
Southern California
UCCE San Diego County fire resources
UCCE Santa Barbara County fire resources
The following general information on wildfire recovery is available for those who were directly impacted by the wildfire.
Homeowners guide to recovering from wildfire
Landowners guide to recovering from wildfire
Livestock, agriculture and natural resources guide to recovering from wildfire
Don't get burned twice (pdf)
Recovering from wildfire: A guide for California's forest landowners (pdf)
The site also provides information for those whose homes were spared in 2017, but now wish to take precautions to reduce the risk of wildfire damage in the future.
Homeowner's wildfire mitigation guide
Sustainable and fire-safe landscapes
Home survival in wildfire-prone areas (pdf)
Home landscaping for fire (pdf)
Invasive plants and wildfires in Southern California (pdf)